After the 4-hour Gion Matsuri procession, where I stood under the hot sun from 8am-12nn, I took the Hankyu line and headed over to Arashiyama since I was already in Kyoto. The sun was strong, but the sky was a gorgeous expanse of blue, and the clouds perfectly white ♥ Arashiyama is a picturesque district in the outskirts of Kyoto, and is a historic site and Place of Scenic Beauty. The bridge, the Togetsukyo, looks stunning over the water, with the mountains in the backdrop.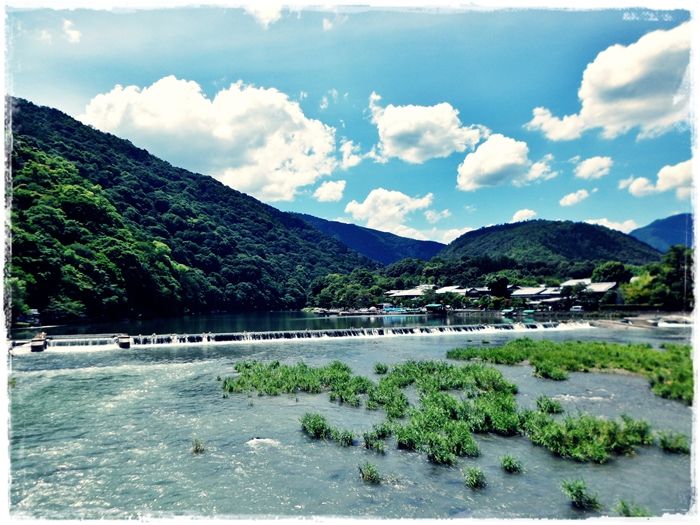 This is probably my favorite shot of Arashiyama; the sky was so blue, the mountains and greenery in the background, and the flowing water which was so clear! I love visiting places like this; vast expanses of green and blue, with the mountains as a backdrop. Places where the air is so fresh and I just feel so happy standing there ♥ Honestly speaking, I'm not an outdoorsy person and I'm not a big fan of hiking either, but I enjoy going to mountains, highlands and nature places just to see the scenery!
While there, I visited Tenryuuji, Arashiyama's largest temple, a UNESCO World Heritage Site. There is a large lotus pond before the entrance, and the sunny weather and blue skies made everything look so good! I didn't go into the main hall (there's an admission fee), though I did buy an omamori (good luck charm).
They also had special limited edition Tenryuuji x Hello Kitty omamori cellphone straps! There are six different types: money, love, wish, education, safety and health.
Walking on, I visited Nonomiya Jinja (got another omamori) and passed by the gorgeous bamboo grove.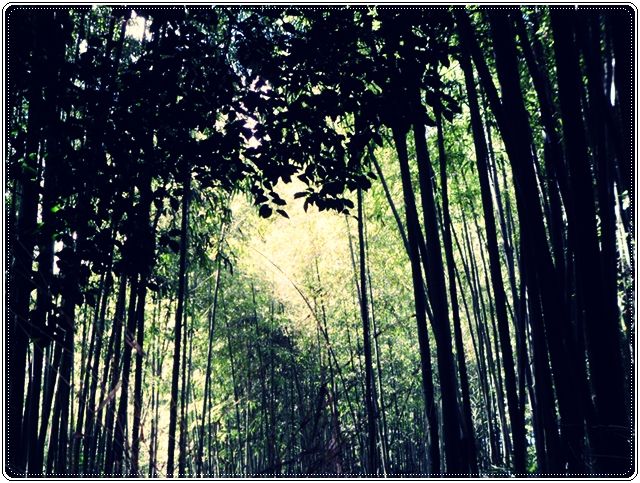 The path, flanked by rows and rows of tall, straight bamboo with the sunlight peeking in between the leaves, was so pretty to walk along, especially when the bamboo swayed in the wind ♥ It was also very cooling with the bamboo blocking out most of the heat!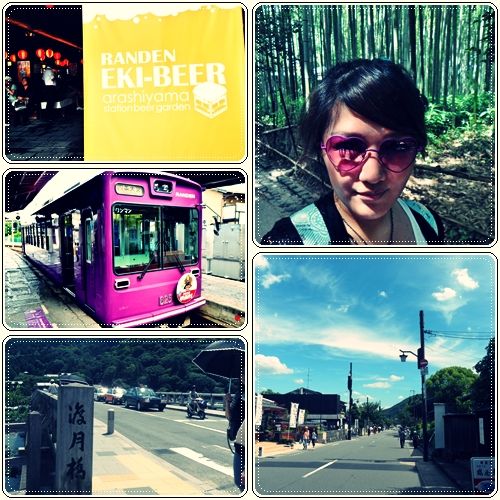 There's really so much more to see at Arashiyama, but it was such a hot day ("like an oven", as a friend described it) and I was kind of dehydrated from the walking plus the 4 hours in the morning, so I gave up hiking under the oven-hot sun! I went to Arashiyama via the Hankyu line, but departed using the Keifuku Randen. The Randen station had food and bites to eat, as well as a beer garden (not sure if it's limited to summer?). The Randen line stops by many of Kyoto's World Heritage shrines and temples, so I decided to visit Ninnaji after Arashiyama~ To be continued another day!