My overnight flight to Chubu International Airport landed early, so I had ample time to catch the airport express to Nagoya Station, then to head over to Meitetsu Bus Terminal and catch my 4-hour bus ride up to Kanazawa!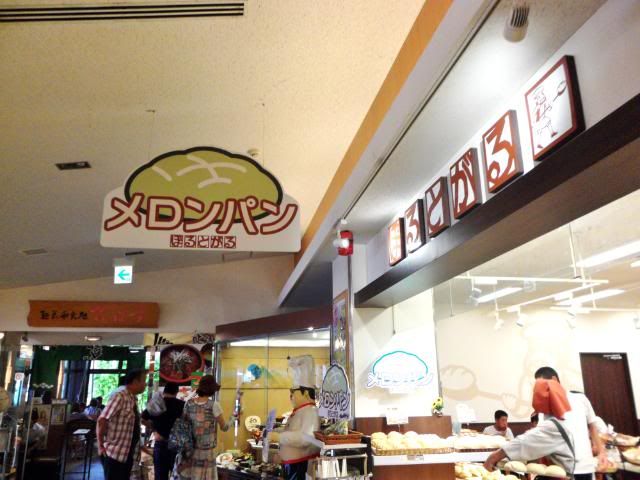 Anyway, I was pleasantly surprised to find out that the bus would be stopping at Nanjyo SA for a short break in the middle of the trip, and was even happier when I saw this! Melon bread!
Delicious Melon Pan, it's really huge though!
However, on a limited time budget of a mere 6 hours, I could not cover every single place. So I decided to go along the route of the Kanazawa Loop Bus. The Loop Bus ticket costs 500yen for a day pass, which you can use as many times as you'd like on the given day. Pretty worth it as a single ride is 200yen.
Bridge around the Higashi Chayamachi district.
The river view is gorgeous~
Next stop: Kenrokuen. One of Japan's top three gardens, it really is a resplendent place. The whole garden is laid out very well, and all the elements complement and balance each other perfectly. I could have spent the whole day here if I didn't have other places to go!
Even the surroundings of the toilets are beautifully landscaped.
One of the ponds beautifully reflecting the greenery and clear blue skies.
Taken from elevated ground.
Lots of stunning views at Kenrokuen, and this is in summer when everything is plain green with no flowers. Imagine how beautiful it is in spring, when flowers bloom and the bright colors fill every corner of the garden. Or imagine autumn when the leaves change colors and provide a magnificent contrast.
The many little streams and water features make this garden so...balanced and complete.
Across the garden is Kanazawa Castle Park. It is being rebuilt so there was scaffolding on the outside.The admission fee of 300yen covers both Kenrokuen and Kanazawa Castle Park.
The inner part of the castle was not open today, so I took a picture from the bridge leading to it.
River before Teramachi
I ended up walking all the way back to Kanazawa Station from Ninja-dera, as I walked to Katamachi and Kourinbou, which were quite near, but the last bus was quite early and I missed it, so I took my time to walk back.
Pleasantly surprised with a pretty view somewhere at the back, near the pond. I didn't really dare to walk any further in as the shrine was closed and no one was around.
Off to bed now, need to be up bright and early to start tomorrow's journey!